Get Price List
Rotary Dryer
Processing capacity: 1.9-76t/h
Length: 8-28m
Applied material: silica sand, river sand, fly ash, coal, quartz, gypsum, clay, carbonate calcium, limestone, etc.

sell@hxjq.com
The Handling Materials and Application of Rotary Dryer:
Rotary dryer can dry various kind of materials which contain moisture, such as coal, coal slurry, slag, industrial waste, and clay stone Widely used in building materials, metallurgy, and chemical industry.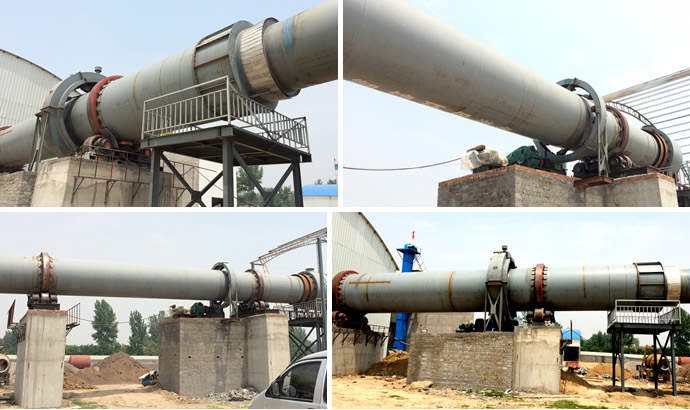 The Inner Structure of Rotary Dryer:
Rotary dryer consists of the main drum and some other parts. The outer motor drives the big gear and then the dry works. The inside structure includes lifting type, screw type and separated type. The heating method includes downstream, upstream and middle heating.
The Advantages and Benefits of Rotary Dryer:
1. Large production capability, continuous operation.
2. Simple structure, convenient operation.
3. Low malfunction, low maintenance cost.
Technical Parameter
Spec./m
(Dia.×Length)
Capacity
(t/h)
Highest Inlet
Air Temperature
(℃)
Φ1.2×8.0
1.9~2.4
700~800
Φ1.2×10
2.4~3.0
700~800
Φ1.5×12
4.5~5.7
700~800
Φ1.5×14
5.3~6.6
700~800
Φ1.5×15
5.7~7.1
700~800
Φ1.8×12
6.5~8.1
700~800
Φ1.8×14
7.6~9.5
700~800
Φ2.2×12
9.7~12.2
700~800
Φ2.2×14
11.4~14.2
700~800
Φ2.2×16
13.0~16.2
700~800
Φ2.4×14
13.5~16.9
700~800
Φ2.4×18
17.4~21.7
700~800
Φ2.4×20
19.3~24.1
700~800
Φ2.4×22
21.2~26.5
700~800
Φ2.6×24
27.2~34.0
700~800
Φ3.0×20
30.1~37.7
700~800
Φ3.0×25
37.7~47.1
700~800
Φ3.2×25
42.9~53.6
700~800
Φ3.6×28
60.8~76.0
700~800
Technical parameters of indirect heat dryer:
Shell
diameter
×shell
Length
Items
Shell
cubage
(m³)
Highest
inlet air
temperature
(℃)
Φ1.5×15m
20.27
850
Φ1.5×17m
22.97
Φ1.5×19m
25.68
Φ1.8×21m
35.91
850
Φ1.8×23m
39.33
Φ1.8×25m
42.75
Φ2.2×21m
58.10
850
Φ2.2×23m
63.61
Φ2.2×25m
69.15
Get Price And Support
Please fill in the form below or inquiry online to get price & service